MACHO WOMEN WITH GUNS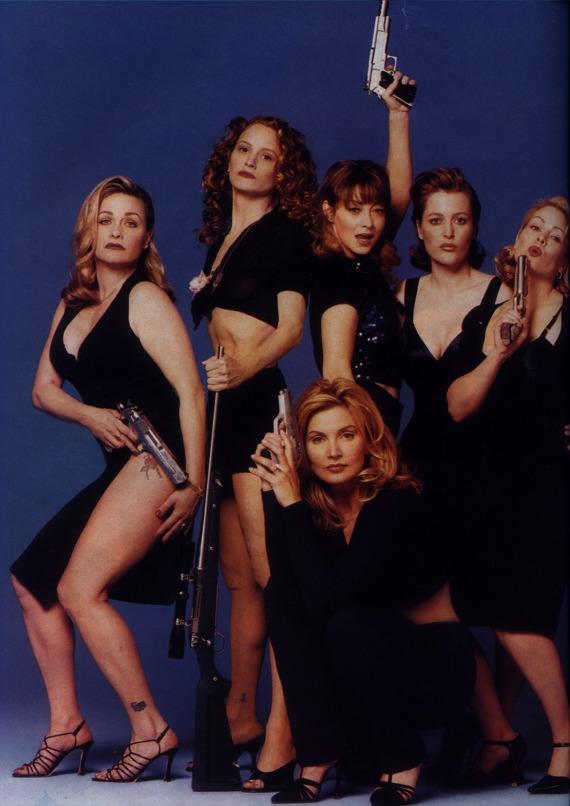 HOMAGE PAGE
Matt and Mav's Unofficial Tribute to the MWWG RPG
---
You are shooter number
since September 1997
---
Welcome
to our unofficial "homage page" for the tongue-in-cheek BTRC role-playing game Macho Women with Guns (or MWWG for short.) As we add to this page we hope to include variants, scenarios, and other resources to help spice up your MWWG sessions. We also feature links to other MWWG web sites. We hope you enjoy our additions to the MWWG game system. And remember, if you take this game or our modifications seriously, you are missing the point. Have fun!

---
Matt and Mav's local "Macho Women with Guns" resources:
Custom Character Profiles

Gillian Anderson (Scully), Lucy Lawless (Xena), Elvira, Siouxsie
Other Variants
Macho Guns from the Movies
---

---
Links to other "Macho Women with Guns" web sites:
Dead Links:
English language MWWG site: excerpts and images from MWWG rulebook
www.ts.umu.se/~balp/rpg/Macho.html
Italian language MWWG site!
www.comune.roma.it/COMUNE/sperimentali/romaingioco/cunsmasc.html
Archangel Entertainment's MWWG Card Game: Fun Guys From Yuggoth
www.archangelent.com/mwwg.html


Please let us know about any MWWG sites we might have missed!
---
Matt!

---
"Macho Women with Guns" is a trademark of BTRC. This web page contains unapproved additions, subtractions, multiplications, divisions and other suggestions for the game. To contact BTRC and order your own copy of MWWG, click on their logo below

THIS PAGE IS NOT SUPPORTED OR ENDORSED BY BTRC
but they are linked to us now...
---
TO HELP MAXIMIZE YOUR WEB SURFING PLEASURE
we present the following fine Web Ring:
Please send e-mail to themaverick@volcano.net with any comments, suggestions or problems.
(About the site only, please! We don't have time for all your problems.)
---